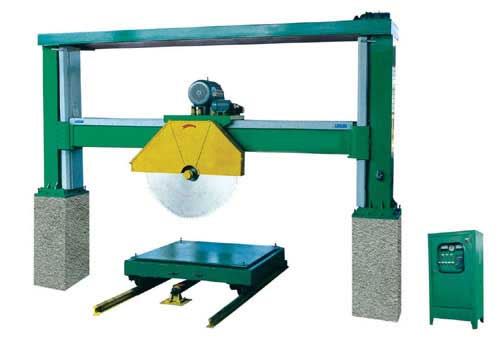 This machine is for cutting granite and marble blocks.The gantry frame makes it high precise and absence of vibrations.
| | | |
| --- | --- | --- |
| Max. cutting length | mm | 3000 |
| Max. cutting width | mm | 1500 |
| Max. cutting height | mm | 850 |
| Max. blade diameter | mm | 2000 |
| Main motor power | kW | 22 |
| Water consumption | m3/h | 6 |
| Overall dimensions(L×W×H) | mm | 6000×4700×6000 |
| Approximate weight | kg | 7000 |
---
Yuxiang is a specialized manufacturer & exporter of Stone cutting machine, such as Gantry Cutting Machine, granite cutting machine, marble cutting machine, stone cutting machine, granite blocks, marble blocks, Block Cutting Machine, bridge cutting machine, cutting marble tool, cutting marble tile, board cutting marble.
Gantry Cutting Machine is of girder rise and fall type structure, and imported frequency converter is used to conduct stepless speed adjustment. The gantry frame makes it high precise and absence of vibrations. The main spindle box of Gantry Cutting Machine moves right and left along the double-V type guide rail on the crossbeam. The cutting table can rotate in 360°degrees. With electromechanical integrated design, this Gantry Cutting Machine is reasonable in structure, high in rigidity, stable in performance. Adopting dual columns, crossbeam lifting system and dual-axis spindle box, the granite cutting machine can fulfill cutting task in one time and dispense with the need for discharging the slabs when processing large blocks. When cutting normal slabs, the machine can also work with the load of 3 bigger blades and 3 smaller blades.
The Gantry Cutting Machine is a granite cutting machine or marble cutting machine, which is an ideal set of equipment for processing large granite and marble blocks or plates and shaped plates with excellent quality. It is convenient and efficient in operation, helpful for environmental protection and energy saving, and beneficial to comfortable and safe operations.