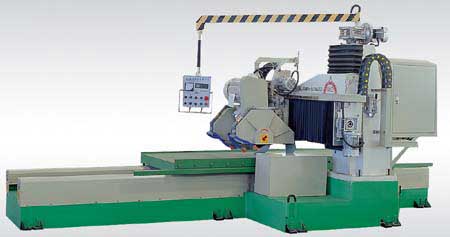 This machine is for cutting profile,Roman column and column slab in small size with automatic tracking

 Max cutting length:25000mm/Max cutting width:900mm
 Max cutting height:600mm/Main motor power:11kW
 Total power:13.2kW/Water consumption:4m3/h

---
Yuxiang is a specialized manufacturer & exporter of profile shaping machine, profile cutting machine, stone shaping machine, cutting profile, roman column, column slab, special shaped stone, marble column, granite column, stone cutting machine.
Profile shaping machine is equipped with advanced PLC automatic-control profile-shaping photoelectric copy system and frequency conversion technology, frequency oil-immersion type sealed guide rail and double-blade cutting. The switchboard on the Profile shaping machine, with operation buttons, programmer and liquid crystal display on it, is mounted on the right hand side of the machine. The switchboard make operator easily to control the machine from the sawing area when the stone is being positioned. The whole stone shaping machine is novel in design, elegant in shape, compact in structure, good in connection of the processed curled line, stable in performance and high in work efficiency. The advantage of the stone shaping machine is stable cutting, high performance, smooth cutting face, and accurate of processing. Profile cutting machine is very easy to operate and good in quality.
The profile shaping machine is applicable for cutting profile, Roman column and column slab, special shaped stone, marble column and granite column in small size with automatic tracking.