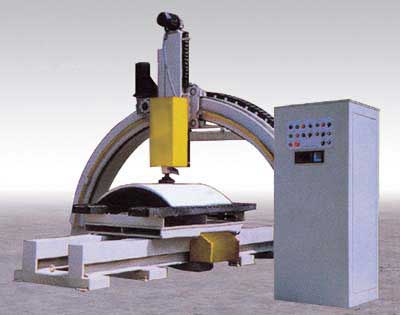 This machine is for polishing column slab.
---
Yuxiang is mainly manufacture and export of Stone machine, can supply polishing machine for column slab, multifunctional column machine, marble processing machine, curve panel polish-machine, profile shaping machine, marble column, marble pillar, granite columns.
This polishing machine is specializing used for polishing marble and granite column slab, marble column, marble pillar, granite columns with various thickness, sizes and radian. The polishing machine for column slab is provided with unique arch framework, which is firm and steady and is fabricated completely at one time by large machining equipment in the plant with high arches and accurate dimensions. Polishing machine for column slab could not be deformed through long-term service. The driving system, matched with control of inverter, enables the polishing speed adjustment more sensitive. The polishing head cutting fast, accurate, highly efficient and stable also ascends automatically after abrasive is consumed. Polishing machine for column slab also has an alarm function. The multifunctional column machine adopts a fully automatic machine as a whole using large beams displacement positioning, workbench move back and forth and tool carrier up and down. To complete parallel plate cutting once, the main parts and components of machine (such as frequency converter, magnetic rule and laser reticure apparatus) are all of imported good quality materials.
The features of Polishing machine for column slab:
Marble processing machine posses the characters, such as: With strict quality control, best performance, durables and little breakdown rate. Sound is slight during running, no vibration and to install underground screws not required. Through special design that is studied and improved for years, the easy operation goes with automatic control in high efficiency. Directly deciding its size as well as length, the cutting is accurate and flat.