stone fireplace
Yuxiang specializes in producing all kinds of granite and marble products. Our main products include western style fireplaces, sandstone fireplace, decorating corner fireplace,rustic fireplace mantel,marble fireplace tile, indoor fireplace, cultured stone fireplace, natural stone fireplace, carved stone fireplace, stone fireplace mantel, marble fireplace mantel. The fireplace and mantle are essential to a Western themed room. Hand-carved sandstone fireplace, carved marble fireplace mantel will bring elegance and beauty to your home. All of them are hand-carved by our skilled craftsmen in classic as well as traditional techniques of carving and composition. Designs of marble fireplace surround: western style fireplaces, American traditional designs, European classical designs, Italian designs, old Greek period style. English style, Irish designs. Belgium and the Netherlands antique designs. We have the ability to do custom design. Different sizes, colors and special design are available.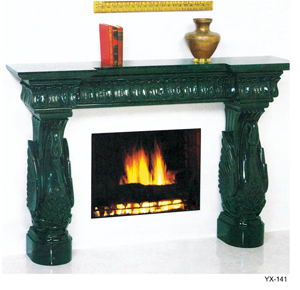 carved marble fireplace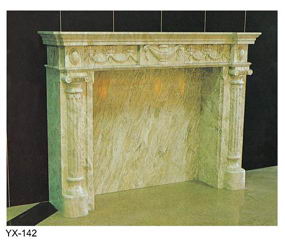 indoor fireplace
Total Page 5: Page 1 | 2 | 3 | 4 | 5
Hand carved western style fireplace, sandstone fireplace, carved marble fireplace in natural stone can be affordable and will add to the value of your home. Generations upon generations of incredibly talented craftsmen have turned China 's finest stone works into a proud tradition of creating unrivaled beauty. Hand carved marble fireplace surround is our most advantaged product. Our carved marble fireplace surround is range in difference designs. There is large selection of the carved fireplace surround designs from Yuxiang, European design with carved or without carved marble fireplace. France Louis mode carved marble fireplace. Flower carved marble fire surround, statue/sculptured carved marble fireplace surround, and most of our fireplace mantel is custom classical designs. Decorative concepts manufacture and sell the finest quality fireplace mantel surrounds and fireplace mantel (shelves).
Introduction of fireplace
Sandstone fireplace is an architectural element consisting of a space designed to contain a fire, generally for heating but sometimes also for cooking. The space where the fire is contained is called a firebox. A chimney allows gas and particulate exhaust to escape the building. While most western style fireplaces are constructed in building interiors, sometimes outdoor western style fireplaces are created for evening warmth, outdoor cooking or decorative purposes.
Configuration of fireplace
Sandstone fireplace made of sandstone may consist of some or all of the following elements: foundation, hearth, firebox, fireplace mantel, chimney crane, cleanout door, grate or iron bars, lintel, lintel bar, overmantel, smoke chamber, throat, flue, chimney chase, crown, cap, spark arrestor and others.
Use of fireplace
In colder climates throughout the world, the carved marble fireplace or hearth has traditionally been a central feature of the household, as it gives warmth to aid survival through an extended winter. The sensation of direct heat, and the mesmerizing leaps and flickers of a wood fire, make its use enjoyable in cold conditions even today. As a result, people gather around a carved marble fireplace for conversation and family bonding. After the workday, it is often the place a family meets at night before retiring to sleep. Additionally, stone fireplace mantel is the focus of custom interior decoration. A mantel traditionally offers a unique opportunity for the designer to create a personal statement unique to the room they are creating. Historically the stone fireplace mantel defines the architectural style of the interior decor, whether it be traditional i.e. classic, renaissance, Victorian etc.