Artificial granite tile
Artificial granite stone is a kind of compound stone, with natural stone's color and grain, could be designed, controlled, imitation to natural marble, granite, color and pattern could be the same as natural granite and marble, even better. Color is uniform, avoid the defect of color difference of natural stone, good toughness, light weight, high intensity, could preserve heat, waterproof, heat isolation, no pollute, no erode, many variety, convenient for installation, it is very ideal material for modern construction decoration. Except for indoor floor and wall decoration, it also could be used for stair step, window sill, service countertop, table, craft furniture.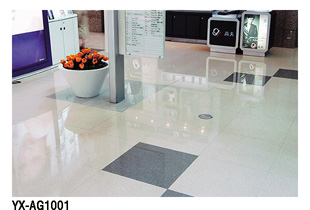 Yuxiang company introduced from abroad the advanced production equipment and technology, specially produce high quality artificial granite stone, with high density, rich colors, brilliant surface, accurate size.